Experienced and Honest New York Real Estate Attorney
For 70-plus years, Brooklyn-based attorneys Robert Dubno and Zerline L. Goodman have successfully guided New Yorkers through the process of buying and selling real estate.
Helping clients from contract to closing in all 5 boroughs, Long Island and Westchester
Trust, experience and a personal approach have all contributed our widespread reputation as reliable and effective real estate attorneys. From nearly round-the-clock availability, to thorough and patient dealings with clients, we are committed to helping you ensure your real estate transaction is a success.
Team up with Dubno & Goodman, PLLC. for the real estate expertise you need.
After seven decades of combined practice of real estate law in the New York area, Bob and Zerline have helped clients execute nearly every conceivable type of real estate transaction. Buying or selling a home or piece of commercial property is a complex endeavor. With our straightforward, no nonsense work style, clients can be confident that every facet of the process will be handled with professionalism and transparency. We can assist you with the following:
Due diligence
Financing
Mortgage approval
Contracts

Title matters
Inspections
Closings
Co-op and Condo Board Representation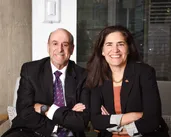 Contact THE OFFICE today!
For step by step help in executing your New York real estate purchase or sale, contact Dubno & Goodman PLLC today.